Share Content

Tuesday, November 30, 2010
The second season of VH1's Basketball Wives is already getting some early buzz.
Chad Ochocinco
confirmed to Ryan Seacrest today
that he is engaged to
Evelyn Lozada
. But the real plot twist here is that
Gloria Govan
, the fiance of former Orlando Magic forward
Matt Barnes
, is coming back for another season and the two have set another wedding date.
You may recall that earlier this year, Matt Barnes and Gloria Govan each expressed their discontent with the show saying Shaunie O'Neal, the ex-wife of Shaquille O'Neal, mislead them. Apparently, the two made amends with Shaunie and the network because the couple's public relations company sent out a release today notifying the public about an official "welcome to Los Angeles" party Govan is throwing for Matt Barnes
Despite saying she would not return for a second season earlier this spring, Govan's public relations agency sent out a release today confirming the couple would return to the show and Govan was hosting a party in Los Angeles this weekend in honor of Matt Barnes signing with the Lakers.
From the release: "Make sure to tune into VH1 this season for 'Basketball Wives' and I can tell you that you will not be disappointed," states the beauty siren, Gloria Govan.
The couple also announced their wedding is slated for the summer of 2012 and their colors are cobalt blue and lavendar.
Something tells me Otis Smith doesn't regret cutting Matt Barnes and the surrounding circus.
Monday, November 29, 2010

We are now up to our 5th category this week. This weeks category is Best VH2 Duo Of 2010. Ashley and Farrah from Rock Of Love Bus won this award last year, who will it this year?
Cathy/Kerry - (Frank The Entertainer... )
This year we got introduced to Cathy and Kerry who were friends before they were on Frank The entertainer.... Both made it to the final 2 on the show.
Feisty/Marcia (I Love Money 4)
Feisty and Marcia met eachother on I Love Money 4 and became really good friends. They name themselves "The Tequila Girls"
Jackie/Pam - (You're Cut Off)
On You're Cut Off, Jackie and Pam always hung out together and weree both hated by Jessica and Gia
Luscious/Platinum- (For The Love Of Ray-J 2)
Just like Cathy and Kerry, Luscious and Platinum were also best friends before they were on For The Love Of Ray-J. They were also part of the Wolfpack clique with Heartbreaker.
Phillip/Stephanie- (Money Hungry)
The best duo on Money Hungry Phillip and Steaphanie. Although Phillip was the in the spotlight most of time while Stephanie was in the back burner, Flabolous was my favorite team.
Tara/Laurice - (Ochocinco: The Ultimate Catch)
On Ochocinco The Utltimate Catch, we had Tara and Laurice. In every scene we saw these two together.
Winner Will Be Revealed On December 5th, 2010


The 22-year-old daughter of wrestler Hulk Hogan showed off her trim figure in the tiger-striped two-piece on a Miami beach.
Brooke has slimmed down in recent weeks thanks to a strict diet and a series of gruelling workouts with her dad.
Writing on Twitter she said: "Ladies- the stairmaster is your BEST friend when it comes to building pretty legs and a juicy booty! [sic]."
But she also told reporters that she's relaxed about her body shape and only diets because she's on television.
Brooke said: "I love my body. Thick or not, I'm firm. I don't have cellulite. I'm happy with how I am. People should know, I'm only doing the diet for the entertainment business. It's not really what you're supposed to look like in real life."
The blonde beauty who found fame on her family's TV show, Hogan Knows Best, now stars in the VH1 spin-off Brooke Knows Best.
The show is now following her attempts to crack the music business as a pop singer.
-
via thesun.co.uk
Vh1's "Football Wives" Melani Ismail. Melani will talk us about How she decided to join the crew for "Football Wives" as well as how she stays grounded and focus through being a wife and a mother,and her Music Career.
Listen Here
The bandanna-wearing former "Rock of Love with Bret Michaels" star won Donald Trump's "Celebrity Apprentice 3," released a solo album, "Custom Built," supervised a new Poison anthology, "Nothin' But a Good Time: The Poison Collection," stars in a new VH1 reality TV show, "Bret Michaels: Life As I Know It" and recorded his second country album, "Once A Cowboy, Always a Cowboy," due in January.

He also had some medical problems -- an emergency appendectomy, a brain hemorrhage and a mild stroke that led to the discovery of a hole in his heart. And he's diabetic.
But the shows must go on.

Michaels is in the midst of his "Custom Built" tour, which brings him to Speaking Rock Entertainment Center, 122 S. Old Pueblo, for a free, outdoor concert at 6 p.m. Tuesday. He's expected to take the stage at 9 p.m.
The 47-year-old Pennsylvania native, who films "Life As I Know It" at the Scottsdale, Ariz., home he shares with his two daughters, couldn't squeeze in a telephone interview with the El Paso Times, but he did answer some questions we e-mailed to him.
Q How involved were you with assembling the Poison box set? What, if any, plans do you have to reunite the band?
A I was pretty involved with it; Poison is obviously a huge part of my past as a musician and the band is
still a big part of who I am. Even on tour now I mix up all the Poison hits, with a new flair. I do all the solo stuff, I play other stuff. I get to sit down and play piano, guitar, harmonica. I get to do different things outside of the structure of what Poison is.
The fans have really been eating it up. I've got "Rock of Love" and "Apprentice" fans, who are real young. You mix that with all the Poison fans, it's a bigger, broader-based audience. But we've never had any Poison fans not show up. We'll have to wait and see about a reunion. I would definitely be on board with it, so hopefully the stars align
and everything works out for the band and the fans.
Q How is your health in the wake of the brain hemorrhage, stroke and heart condition from which you suffered earlier this year?
A I'm feeling pretty good. Each day I feel a little bit better. I'm about 80 percent, 75 percent of where I know I can get to, so I just keep my fingers crossed. I think it's a blessing in disguise because they found a lot of what was causing the mini-strokes and the TIAs (transient ischemic attacks) and stuff.
Q How did that experience change your life and your approach to it and your career?
A Whatever it is, I live my life passionately. And music is a powerful healer for me. I've learned a lot of it is mind over matter. Once I knew that I had a chance to survive the brain hemorrhage, I was taking life and grabbing it for everything I could.
Q What have you learned from your experiences on "Rock of Love" and "Celebrity Apprentice" (congrats on winning, btw)?
A Here's the bottom line. Music is my first love, hands down. I really think it's the perfect split. In my contract, it's built in that I gotta write the music (for my reality shows), the theme song, and I want my music in the show. The bottom line is that TV can either be a great asset to your career, or if you're a complete ass that people hate, it can be the final nail in your coffin. The "Celebrity Apprentice" was obviously a very different experience than "Rock of Love." "Celebrity Apprentice" really allowed me to develop and demonstrate my business skills. It was a whole different side of me.
Q Why did you decide to do "Life As I Know It" and what have you gotten out of doing it so far?
A VH1 was getting a lot of requests for a show about my life at home, so we decided to move forward and do that. It features my daughters, Jorja and Raine, and I think the girls are having a good time. We're a fun family and I think people get to see that.
Q What inspired you to make another country album; how would you contrast it with your first one, "Freedom of Sound"?
A I've always been such a huge fan of country music. Along with rock, it's really my second love, so it seemed like a natural fit. Same style as "Freedom of Sound," but this will have a little more kick, a little
more rock and roll added to the mix.
Q What inspired your desire to support U.S. military personnel; what do you get out of that? (El Paso has a huge military installation, Fort Bliss, which you should consider visiting if you have the time).
A The U.S. military personnel, they're all heroes. They've given so much to the country and if I can give back and support them in any way I can then I'm happy to to do it. What I do onstage is small compared to what they do, but giving back is important to me, and we can't take all that they do for granted. As for visiting Fort Bliss, I would love that.
Make Plans Who: Bret Michaels, with Ulysses and Texas Road House. When: 6 p.m. Tuesday (Michaels goes on at 9). Where: Speaking Rock Entertainment Center parking lot, 122 S. Old Pueblo. How much: Free (only 18 and older admitted). Information: 860-7777; speaking-rock.com.
via californiachronicle.com
In a rare TV interview, Tiger Woods' famed mistress Rachel Uchitel spoke on theToday Show about her addiction to love and how that led her astray.
Appearing alongside her Celebrity Rehab mentor, Dr. Drew Pinsky, Rache promoted her stint on the VH1 program and explained why she went on it.
"I knew that I needed help," Uchitel, who claims she went on the program to deal with her love addiction. "And I wanted to get it from Dr. Drew."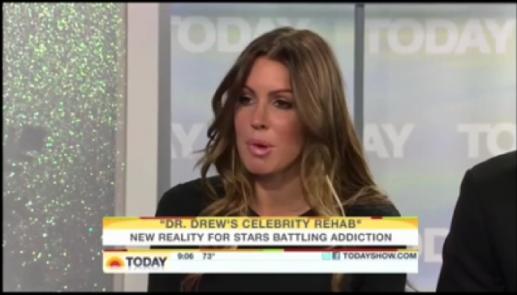 The 35-year-old all-pro mistress also said she was being treated for addiction to Ambien and other prescribtion medications, which she did not identify.
Dr. Dew said Rachel Uchitel's condition is partly triggered by traumatic events in her past, such as the premature deaths of her father and fiance Andy.
She was set to get married before he perished in the 9/11 attacks.
In her case, that knight must be married and famous.
"But it is not an excuse for anyone's behavior. You get stuck in relationships that are not right; you put a mask over somebody and pretend they're somebody they're not. You get disappointed when they don't react the way you want."
Fortunately, "I'm a completely different person now than I was before I went on the show," Uchitel said of the "most intense" Celebrity Rehab season yet.
The show premieres Wednesday. Don't miss it.
Celebrity Rehab 4 Premieres December 1st